Pentland Piano Festival - 17 March 2018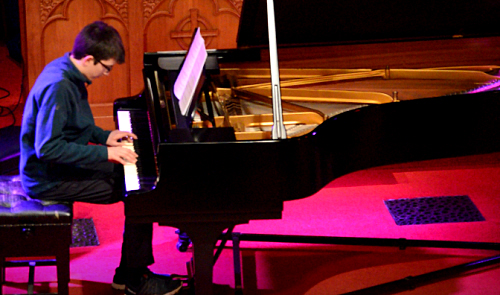 The second running of the Pentland Piano Festival once again displayed the wealth of musical talent across the Lothians, Borders, and further afield, with two young visitors from Germany. Finn Sellhorn and Henrike Fabienne Resch flew in from Hamburg to take part in the event. .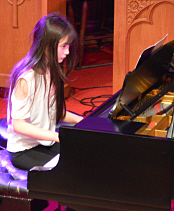 Festival founder and leader Graham McDonald, music teacher at Penicuik Beeslack Community High School, as well as a widely known and acknowledged pianist, opened and led the event throughout the day. Despite the return of snow, wind, and bitter temperatures as low as -3 degrees. we were once again privileged to hear many up and coming young pianists.
Throughout the day a series of classes were held with pianists of all ages and abilities presenting to those who dropped in to hear them. Of course parents, extended families and friends of the players were there, but others dropped in when they heard what was going on. Our resident adjudicator
Peter Antonelli MBE
was on hand to provide guidance and feedback to the players, adding several talks with the audience of what is important to a young musician learning an instrument, and how parents and friends can help the student on what can be at times a tough learning journey.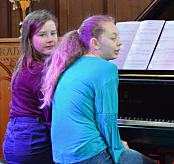 In the evening the concert attracted almost a hundred visitors, again fighting the snowstorms and still bitter temperatures to listen to a wide range of piano music genres, and styles, from a selection of players returning after their morning sessions. If you wondered if a piano can sing, then you should come along to one of these concerts to hear just how it can be done.
The event organisers would like to thank all those who entered this non competitive gathering of pianists, their families and friends for providing them support as they learn.
The Festival will return in 2019 with yet more up and coming musicians trying out their skills to us all in the audience.