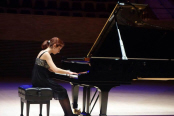 The Pentland Piano Festival is a new event designed to celebrate piano playing and repertoire, and invites pianists of all ages and abilities to participate.
The festival is a non-competitive event, providing an opportunity for pianists to perform on a concert standard piano in an excellent acoustic environment.
Although the festival is non competitive, an experienced adjudicator will be on hand to offer encouragement and guidance to performers.
The festival day will be divided into a series of sessions, where performers will play music of their choice, to a small audience, before the event adjudicator offers constructive feedback and advice on their performance.
More advanced students may wish to receive more detailed feedback, or play in a Masterclass, where they can work on a piece in some depth.
There will also be an open session, for those wishing to perform, who are unsure of their performance standard, or who may not have played for some time.
In the evening the event will culminate in a concert before a public audience, featuring as many of the performers as possible from the day sessions.
Date - Saturday 18th March 2017
Venue - Penicuik South Kirk, Peebles Road, Penicuik, EH26 8LY